Books for Children
Weird, Wild & Wonderful
Illustrated by Neal Layton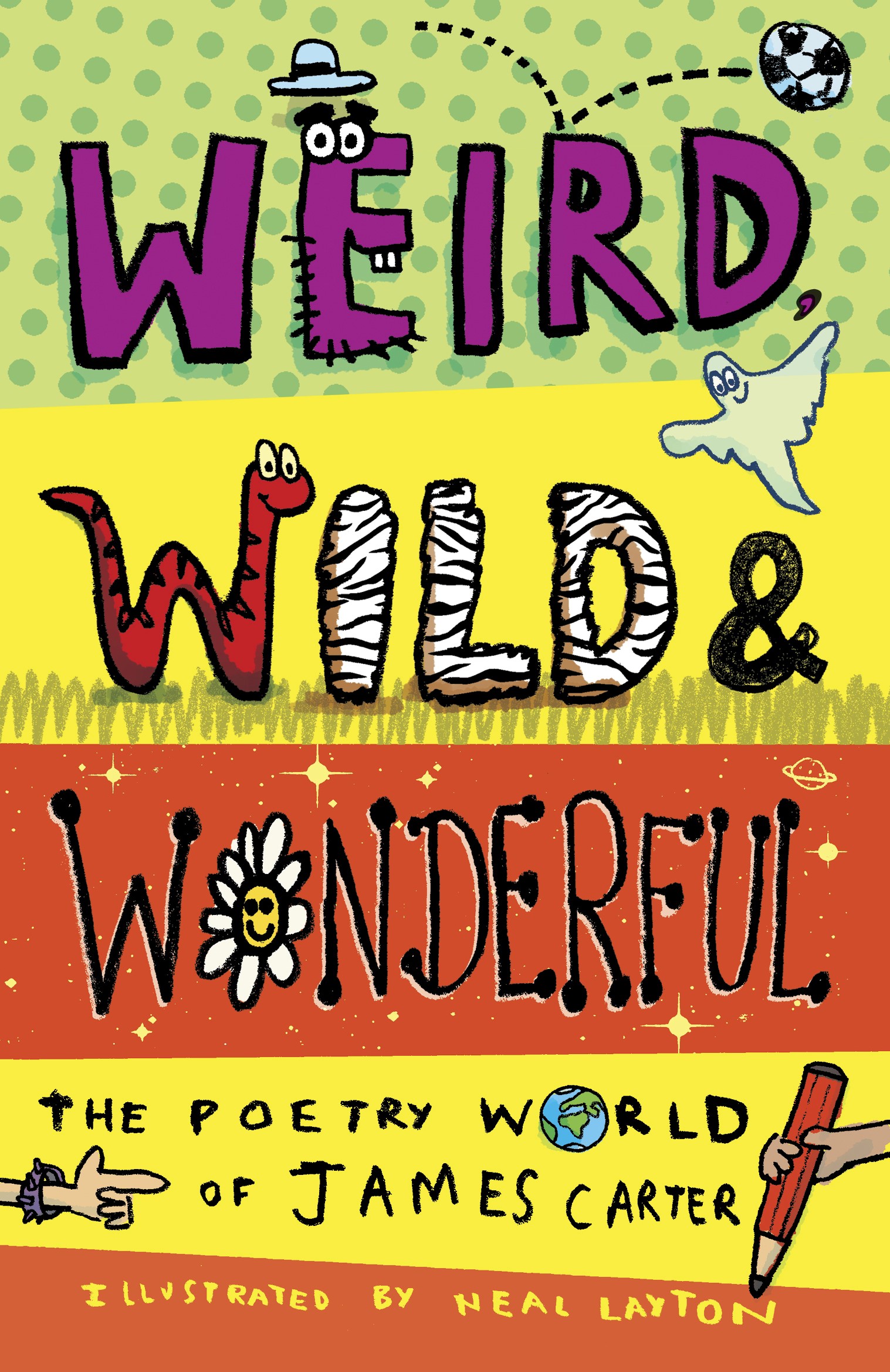 for 7-777s
Welcome to the weird, wild and wonderful world of James Carter. In this 'best of' collection - crammed with James' most requested, popular and anthologised poems - expect to meet a wolf or two, sing a lullaby to a woolly mammoth, have a conversation with a fly and even meet an alien in a library.
An excellent collection. Every KS2 classroom should have one.
Pie Corbett, Educationalist/Poet
..this smashing book of poems - there's something for all tastes therein: it most definitely hooked this reviewer.
Jill R Bennett Red Reading Hub
If you want your children to read quality books, you really need to buy this one, in which James displays his love of life, and embraces its mysteries in admirably crafted poems.
Amazon Review
A spectacular collection of old favourites and new classics from the pen of James Carter. Housed together in a new book, this collection of poems is perfect for classroom use or home reading. The superb use of vocabulary and varying styles of poetry will have teachers excited to share this collection. The illustrations by Neal Layton are perfectly suited to James Carter's poems; quirky, apt and stylish. This is one of those impressive, high-quality collections we need to share with our students. Brilliantly written and fun for all- this is one not to be missed.
Just Imagine
The Big Beyond
The story of space travel
Illustrated by Aaron Cushley
Get ready for blast-off with this fast-paced poem that's all about space travel, from the early humans who dreamt of wings to the Moon landing and beyond.
We adore this book with it's stunning illustrations and gorgeous poetry that tells the story of how humans have always been interested in space and flying.
SEN Resources Blog
This is a lovely introduction to space travel for KS1 children, which helps them to share all the wonder through pacy verse that runs right through the book, really picking up on the excitement of space travel. The striking and superbly detailed illustrations by Aaron Cushley complement the verse perfectly and offer lots of opportunities for discussion.
Parents in Touch
A bold and imaginative picture book, takes space travel back to its very beginning though engaging and informative poetry, and imaginative illustrations which together bring to vivid life the story of our planet's cosmic curiosity.
Lancashire Evening Post
This beautiful rhyming picture book takes readers on a tour through the centuries.It is a beautiful introduction to physics and space travel and encourages readers to see themselves as future astronauts.
Book Murmuration
Once Upon a Star
The story of the sun
Illustrated by Mar Hernández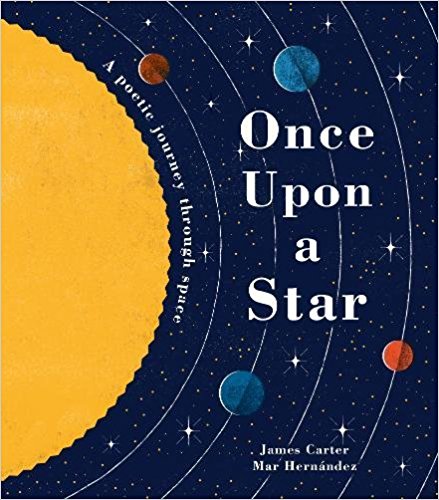 Discover the origins of the universe! The worlds of poetry and science collide to create a picture book about our Sun.
Here James Carter takes on the origin of our universe for an Early Years readership. He presents the information as a story told in an attractive rhyming text that speaks directly and imaginatively to its young audience. The text is presented in an attractive large font that on occasion swirls and bursts off the page adding to the underlying excitement of the science. An enjoyable, informative and affirmative addition to any child's bookshelf.
BooksforKeeps
An ode to the creation of the universe the book blends the words of science and poetry beautifully. With dynamic graphic illustrations you will learn about the Big Bang, planets, sun and stars as well as the beginning of life on Earth. This book is a beautiful collision of poetry and science!
BookBairn
There's been a real boom lately in non-fiction books imaginatively presented for young children and Once Upon A Star, exploring how our universe was created, by poet James Carter and illustrator Mar Hernández, is a beautiful addition. Carter's verse bounces along, whlle Hernández's images explode on the page.
The Observer
Also available
Once Upon a Raindrop
The story of water
Illustrated by Nomoco
Immerse yourself in the world of water and discover the story of H20 on this enchanting poetic journey.
Written by a poet who knows how to make words sing, this is nonfiction with a difference - an imaginatively immersive "experience with facts" that's every bit as refreshing as the clear blue water bubbling across each page. Pleasing aesthetics are a key feature of this lovely book. Every word, every blank space, every drop of ink has been carefully considered for maximum effect, and Nomoco's stylishly understated illustrations are a particular delight. Simply yet perfectly pitched for young readers, there's a depth and quality to this book that extends its appeal. Shared as an introduction to watery topics and creative activities it will engage and inspire children right through primary school.
Cast of Thousands Website
Exquisite. Beautiful book. Pleasure to read.
Amazon review.
Once Upon a Rhythm
The story of music
Buy on Amazon
The World's Greatest Space Cadet
Illustrated by Ed Boxall
For human children aged 7-12.
A dreamer? Me? Err, you bet. The World's Greatest Space Cadet! Join well-loved poet James Carter on a journey through space and time - meet everyone from a Viking Warrior to a crazed cat and travel from planet Earth to the very edges of the universe. This wonderful collection is the perfect way to get children interested in poetry.
His poems will work their magic on all readers, and each one finds something new to say, and the perfect way to say it. A treat from first page to last.
Lovereading4kids.co.uk
To me, this is what teaching poetry should be about in primary schools; pushing boundaries of language conventions as well as using humour to capture attention. The mix of poems throughout the book are fantastic in exploring different forms of poetry, inspiring pupils to create their own versions which can be very rewarding and less overwhelming than other forms of writing.
UKEd Chat
Oh yes! This collection is very good indeed
poetryzone.co.uk
Zim Zam Zoom - Zappy Poems To Read Out Loud
Illustrated by Nicola Colton
Want to travel in a rocket? Search for a grumpy dragon? Make your very own monster? Visit a higgledy-piggledy farm? Well, hop into Zim Zam Zoom - for fun and adventures galore! Colours, animals, space, music, fairytales and fireworks...! Here is a collection of poems especially written for performance. With delightful illustrations by a talented new illustrator, this is a brilliant introduction to poetry for young children.
There are few writers more sensitive to 'hooking' young children into poetry than James Carter. His vast experience of visiting and working with youngsters in schools enables him to pitch his writing for his audience perfectly...Carter does exuberance and humour really well, but he can also be quietly reflective. If you're not sure about teaching poetry, then look at his website and just dive into a collection like to enjoy with your children.
English 4-11
Beautiful book, wonderful words, lovely illustrations. This is definitely a poetry book, but it's a picture book, too. I tried reading it aloud with a young listener and it went down very well. We both really enjoyed it - every single poem. They made us laugh, they made us shiver and they made us ooh and aah. The alliteration and the onomatopoeia, the fun rhyme and the zappy rhythm are all ideal for joining in. James Carter really does understand how to grab the attention of younger children. And Nicola Colton provides some great illustrations. Buy it." Poetry Zone "There is Roger McGough, there is Michael Rosen and here is James Carter bringing bright, lively words to children. ... Against bold coloured backgrounds of ochre, red and green, Nicola Colton's childlike images add to the joyful action. .. This is a book that would be great fun to share with a class of enthusiastic children, or as a family at bedtime.
IBBY
Red Reading Hub
The Story of the Wolf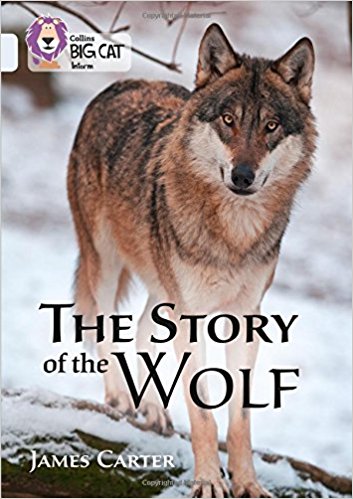 Wolves are fascinating, beautiful - and often misunderstood. Find out how wolves are adapted to life in harsh climates, how they live and work together in packs, how humans have mistreated them in the past, and how humans and wolves might live alongside each other more peacefully in the future.
The Story Of The Electric Guitar
Electric guitars have made a massive contribution to music over the last century. It's hard to imagine today's music without them! But how were they invented, who were (and are) the greatest guitarists and what makes this amazing instrument so versatile and exciting? Read this book to find out! For 10/11 year olds.
I'm A Little Alien!
Poems For Little Stars
Poems, riddles and action rhymes for younger children.
Zoom around this book to find aliens, stars and a greedy robot - as well as funny faces and a ball that won't bounce back! This is a fun and playful new collection by an award-winning poet who knows how to inspire and delight very young children.
I'm a Little Alien is a fantastic collection of poems that will excite and engage young readers, drawing on children's immediate interests and experiences. Children will be transported on a journey into space alongside endearing characters such as Oggy the robot; learning a wealth of new and exciting vocabulary and concepts. Children can dive into poems based on the seaside and animals; poems such as Bucket invite children to use their imaginations and visualise concepts. Endearing illustrations by Mique Moriuchi are the perfect companions to the poems. Ideal for supporting learning and development across the Early Years Foundation Stage and Key Stage One, this collection allows adults and children alike to explore a range of poetry. A must-have for classrooms everywhere.
Charlotte Hacking, Teaching and Learning Manager, Centre For Literacy In Primary Education
Journey To The Centre Of My Brain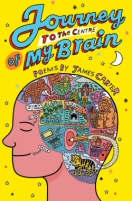 Stars, woolly mammoths, tigers, bugs and books .sneak a peek into James Carter's brain in this brilliant collection of poems. Something for everyone aged 7-777 years old! Macmillan Children's Books - January 2012.
This is a fantastic collection of poems for children and grown-ups of all ages. Lively. Thoughtful. Energetic. Delightful. James Carter is so good at making words sing and play, tell stories, transform themselves into wolves, the moon, guitars - in short, he makes words perform! The book is full of important information too. Find out what stars are, why you shouldn't do a jigsaw in space and what dinosaurs are made of. James asks what you would do if you were Boss of the Universe? That's easy! I would make everybody buy a copy of this book. It's funky!
Poetryzone Website
Loved the poems. Fun to read to your child and an excellent use of words. I recommend the book to others.
★★★★★
Amazon review
Hey, Little Bug!
Poems for Little Creatures
A collection of poems and action rhymes for 0-7 year olds.
An excellent book, full of quiet, tender and fun poems for little ones. And not, thank goodness, twee and sentimental. There's a good variety of poems with lots to join in with and learn by heart. Lovely illustrations, too. Overall, it's a wonderful introduction for young children to the delights of poetry. Buy one for the classroom, one for the school library and one for every child you know under the age of seven.
Poetryzone website
This is a lovely introduction to poetry for young children .. What shines through is a real understanding of the target audience and the things that will appeal to them. A great book for the classroom/ school library.
Parents in Touch
A charming and tender collection written for the 'little bugs' that constantly absorb sights and sounds around them. As a performer of poetry, James Carter writes with the exuberance he would give when delivering poems in person, and each one contains this lively enthusiasm both on and off the page. It is clear the poems mean a lot to Carter, and this is easily transferred to the reader. Children will find it absorbing and entertaining and adults will be reading with smiles written on their faces.
Love Reading - - reviewed by their poetry expert Liam Parkin
Good poetry books for younger children are thin on the ground. Either they come in big glossy coffee–table type tomes – the sort that granny might buy at Christmas (not that there's anything wrong with that) or they are regurgitations of poems written fifty or more years ago. And however great you might think Robert Louis Stevenson's poems are – they are very much of their time. How wonderful, then, to read James Carter's fantastic book. Like RLS it's full of gentle, daft, sensitive, funny, sad and serious poems. But, and here's the really good part, it's not twee or sentimental. The poems are modern – of these times. Nice illustrations too.
★★★★★
Amazon website
GRRR! Dinos, Dragons and other Beastie Poems
Grrrreatings readers! Want to know how to how to get a woolly mammoth to sleep? Want to know how to steal a dragon's egg? Want to know what vexes T Rexes and what dinos are made of? Want to know a good name for a dragon? Want to get headbanging at the dino disco? Well, you'd better tread carefully as you step into this book, it's brrrimful of beasties grrrreat and grrrruesome, and what's more, plenty of...GRRR!
Greetings, Earthlings!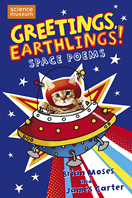 Sponsored by the Science Museum, this is a brand new collection of sparkling space poems from two of the UK's top children's poets – with stars, planets, space travel, moonwalkers, UFOs and aliens aplenty. Cosmic or what?
The book is a great mix of funny, exciting and touching poems that will delight kids and parents alike.
Family Interest magazine
How to Turn Your Teacher Purple! and Other Sizzling Science Poems
A collection of sizzling science poems that will make you gasp, groan and giggle. With quarks and quasars, dynamos and dinosaurs, take a poetic look at science from the big bang to the end of the universe! Q: What's great, green, slimey, stripey, brainy, zany, curious, cosmic and utterly mind-blowing? A: The poems in this book!
★★★★★
Amazon website
Orange Silver Sausage
Poems without rhymes from Zephaniah to Agard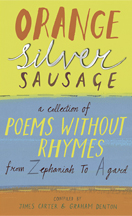 Orange Silver Sausage is a wholly unique anthology, lovingly compiled by James Carter and Graham Denton. It contains over 50 non–rhyming poems of every shape and size, in a wide array of voices from many of the UK's top poets – including Carol Ann Duffy, Michael Rosen, Brian Patten, Jackie Kay, Grace Nichols, and Roger McGough, and of course, Benjamin Zephaniah and John Agard. OSS even contains a manual on how to write and perform your own non–rhyming poems!
There is a lack of quality poetry books available currently, and in the absence of good single–poet titles, this much needed anthology of non–rhyming poetry does exactly what it sets out to do. Some of the best children's poets are represented and the authors do not stick only to the well known poems. It as a great mix of the little–known and the familiar, and provides serious insights alongside entertaining and humorous pieces. In addition, notes are provided to encourage children to try their hand at writing their own poems. Every teacher and librarian will want this – it is a classic for the whole of KS2 and beyond.
The Bookseller
Time–Travelling Underpants
A collection of poems for 7–777 year olds – loosely based on the theme of time.
A beautiful collection. Crafting genuinely effective poems for this age group is not easy and only a few poets have the skill. James Carter manages to find depth in this well–crafted collection. Macmillan have done much to promote poetry in schools and this collection is a genuine bonus to their list.
Pie Corbett
Top 10 Best Books of The Year in Junior Education
A really starry collection of poems serious, amazing and hilarious.
Fiona Waters
Carousel Magazine
Also available to download from iTunes
Cars Stars Electric Guitars
A collection of children's poems in a variety of forms, styles and voices for 7–11 year olds.
This book is recommended by Young Book Trust (London) as part of their Children's Poetry Bookshelf Scheme and was promoted to Primary schools across the UK for National Poetry Day in October 2002.
James Carter is an exciting new voice, imaginative and innovative. Children will love these poems.
Jacqueline Wilson
A great variety of funny and thoughtful poems presentated in a lively and entertaining manner, packed with humour and originality. A definite buy for the classroom. Will children like it? Yes, very much.
Poetryzone website
James Carter is an exciting new voice with an original view on the world...His observations make you smile, nod in agreement or laugh out loud...It will appeal to children and adults from 7 upwards – buy lots and enjoy.
School Librarian
Carter is a name to watch and writes with warmth, gentle humour and some charm.
Morag Styles
TES
A superb collection of poems...a fine addition to any KS2 poetry collection, but kids from both KS1 and KS3 will also love many of these poems, such is their quality and the breadth of their appeal.
Literacy & Learning
James Carter's first collection shows a quick–witted, energised poet working his way through a host of fresh approaches to verse...This slim book fairly fizzes with ideas...A cheerful collection that Key Stage 2 pupils will enjoy exploring.
Wes Magee
Junior Education
The poems are really exciting...would recommend this book to reluctant or first time poetry readers of any age, there's something for everyone!
Megan Whiteman (age 13)
Familyrapp website